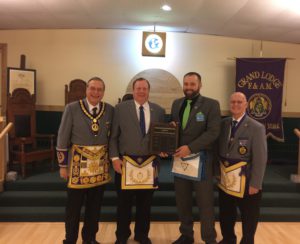 The CST District Association held its annual Scholarship & Awards Banquet on Saturday, March 18, 2017, at Spencer Lodge #290 in Spencer, NY. In addition to brothers from around the district and their spouses, and the families of scholarship and award winners, the District Association was very pleased to host the Grand Master, MW: Jeffrey M. Williamson, and his Grand Marshal, RW: James R. Kintzel. Following an Invocation by RW: H. David Strong and the Pledge of Allegiance to our Flag, the evening kicked off with a meal served in the fellowship hall. Afterwards, guests moved into the Lodge Room for the evening's program.
VW: Jeffrey Golden welcomed all of those in attendance and introduced W: Robert Morris, Master of Spencer Lodge, and VW: Justin DeVine, AGL for the CST District. RW: Lester B. Stockwell, District Deputy Grand Master of the Broome-Chenango District, RW: Paul Leahey, Grand Sword Bearer of the CST District, and RW: Clifton R. Hathaway, District Deputy Grand Master of the CST District were all announced and escorted to the East, where they received Grand Honors. The Grand Master himself was then announced, escorted to the East by the Grand Marshal, and awarded an exuberant round of Grand Honors by the brothers in attendance. He then turned the gavel over to RW: Hathaway who presided over the evening events.
W: Bruce Williams, President of the CST District Association was then called to the East, where he gave an address outlining the programs and events organized by the District Association. He stressed that support for these events was directly responsible for their continued existence and he encouraged all those present to find ways to become more engaged with the District and the District Association.
RW: Hathaway, with the assistance of the Grand Master, then presented each of the scholarship winners with their respective certificates and checks. Our winners for this year were Mr. Skylar Jorgensen of Tioga, Ms. Erika Rexford of Breesport, and Ms. Jessica Schiefen of Horseheads. The CST District AGL's Award was then presented to Myrtle-Jefferson Lodge #131 for ritual excellence. W: Guy Auge, Secretary of Chemung Valley-Waverly Lodge #350 was then presented with the Ralph E. Hefft Secretary's Award. Finally, RW: H. David Strong of Friendship Lodge #153 was named as this year's Mason of the Year. Each of the scholarship and award winners was treated to congratulatory and kind words from the Grand Master. Following a Benediction from RW: Strong, the meeting was again returned to the fellowship hall for coffee and dessert.